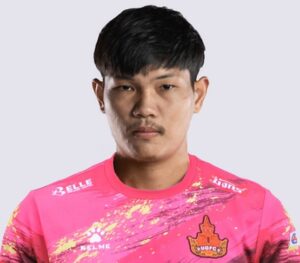 Nationality

Thailand

Position

Forward

Current club

Phrae United

Previous club(s)

Ayutthaya, Ayutthaya United, Bankhai United, BU Deffo, Kasetsart, Prachuap, Sukhothai, Udon Thani

Season(s)

2022/23

Birthday

28th November 1996

Age

26
Player`s name in Thai:
Player`s profile at Transfermarkt
Made his debut for UDFC as a substitute against Customs United in the league (T2) on September 3rd, 2022. Made his full debut against Khon Kaen Mordindang in the League Cup on October 19th, 2022. He scored his first goal in the same match.

Thai League 2
| Season | Club | Started | Sub | Appearances | Goals |
| --- | --- | --- | --- | --- | --- |
| 2022/23 | Udon Thani | 3 | 5 | 8 | 0 |
| Total | - | 3 | 5 | 8 | 0 |
FA-cup
| Season | Club | Started | Sub | Appearances | Goals |
| --- | --- | --- | --- | --- | --- |
| 2022/23 | Udon Thani | 0 | 0 | 0 | 0 |
| Total | - | 0 | 0 | 0 | 0 |
League Cup
| Season | Club | Started | Sub | Appearances | Goals |
| --- | --- | --- | --- | --- | --- |
| 2022/23 | Udon Thani | 1 | 1 | 2 | 1 |
| Total | - | 1 | 1 | 2 | 1 |
UDFC career total
| Season | Started | Sub | Appearances | Goals |
| --- | --- | --- | --- | --- |
| 2022/23 | 4 | 6 | 10 | 1 |
| Total | 4 | 6 | 10 | 1 |